EMPLOYEE REWARD PROGRAMS
If you are looking to recognize employees with brand name merchandise awards, you are in the right place! At Awards Network, you select the employee recognition program option and what price level you would like to award and the employee selects the brand name recognition gift.
Employee Recognition Gift Features
4 low cost recognition program options
15 different price levels starting at $25
Each price level features over 120 items
Free shipping within the 48 states
No ongoing, annual or setup fees
Recipients redeem online, fax or mail
Single point of contact for ordering and customer service
Our employee recognition gift programs are ideal for service awards, perfect attendance, safety and many other reasons where you want to have an employee pick one gift from a single priced collection.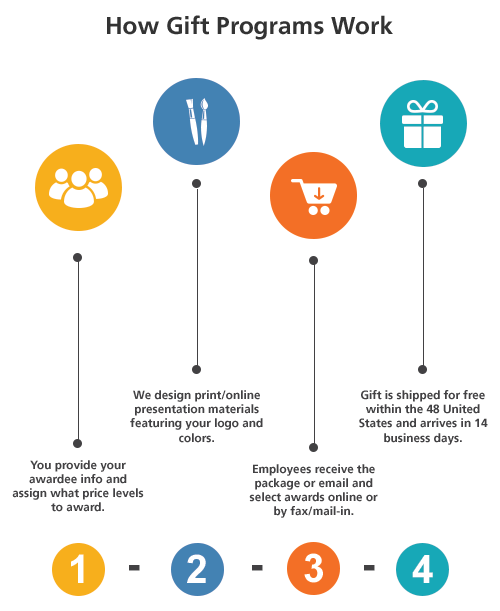 Interested in a points-based employee recognition program for your workers? Awards Network has cost effective employee point programs available with no ongoing or annual fees. Our employee recognition experts will help you develop a program for your exact needs.
Employee Point Program Features
Brand name merchandise, travel and gift card options available
Brand Name merchandise ranging from approx. $20 – $4000
Awards ship for free within the 48 United States
Printed and fully online program options are available
Customized website & program materials
Awards Network's employee point programs are perfect for companies looking to reward people over time, allowing them to accrue points that can be saved or spent. Our catalog features brand name merchandise, gift cards and travel options allowing for a wide variety of gift selections.